Lesson pricing
---
For Lesson pricing to suit you -
Please call 01260 276498
or mobile: 0778 779 2496
for a quote today!
Areas covered
---
Areas covered include:
Congleton, Sandbach, Alsager, Crewe,
Holmes Chapel and Macclesfield
Have a question?
---
Please click here to get in touch with me at
lorraine.powell5@btinternet.com
I'll be happy to help answer any questions!
Social
---

Follow me on Facebook
Getting Insurance
---
Get a great deal with Collingwood Learner Driver Insurance


For great insurance rates for learner drivers, new drivers and Cars for young drivers, see Marmalade.

Theory and Hazard Perception Test
There are Theory Test Centres where you can take the Driving Standards Agency's theory test on a touch screen computer all over the country. The most accessible ones to pupils with Learn with Lorraine® are:
Stoke on Trent - ST1 2QE

Stockport - SK4 1LW

Manchester - M1 2HY
The test is in 2 parts and both must be passed at the same time.
Theory:
This comprises of 50 multiple choice questions often with pictures or clips. You are allowed up to 57 minutes to complete this test and you need to score 43 correct questions to achieve a pass. Questions can be flagged up throughout the test so that they can be revisited at the end to double check the answer.
Hazard Perception:
Following a 3 minute break. You will then be shown 14 film clips of typical driving situations. The total marks available are 75 and you will need 44 points to achieve a pass. You are tested on your ability to spot the Hazard and the point score reflects how quickly they are seen.
You can book your Theory and Hazard Perception Test via the following methods: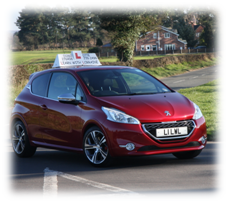 Telephone: 0300 200 1122
Online: https://www.gov.uk/book-a-driving-theory-test
Attending the test
You must take both parts of your Provisional Licence; the photographic plastic card and the counter part.

If you only have the old provisional licence without the photo card licence then you must take your passport.