Lesson pricing
---
For Lesson pricing to suit you -
Please call 01260 276498
or mobile: 0778 779 2496
for a quote today!
Areas covered
---
Areas covered include:
Congleton, Sandbach, Alsager, Crewe,
Holmes Chapel and Macclesfield
Have a question?
---
Please click here to get in touch with me at
lorraine.powell5@btinternet.com
I'll be happy to help answer any questions!
Social
---

Follow me on Facebook
Getting Insurance
---
Get a great deal with Collingwood Learner Driver Insurance


For great insurance rates for learner drivers, new drivers and Cars for young drivers, see Marmalade.

The Practical Car Driving Test
Application for the test must only be made when your Approved Driving Instructor (ADI) informs you that you are of the correct standard. Practical driving tests are available to Learn with Lorraine® pupils in:
Macclesfield

Crewe

Buxton/Newcastle under Lyme/Stoke on Trent (on request)
You can book your Practical Driving Test via the following methods:
Telephone: 0300 200 1122
Online: https://www.gov.uk/book-a-driving-theory-test
The details you will need to book are as follows:
Theory Test Certificate No.

Licence number

ADI Registration No.

£62 (as of June 2013)

Email Address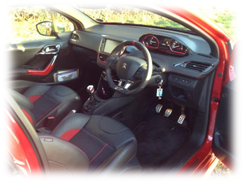 It is necessary to give Lorraine's ADI Registration number to ensure that the DSA does not double book her for a test slot.
The test itself
The Practical Driving Test takes about 40 minutes and during this time you must prove your driving abilities in a number of situations on varying road types. You will be asked to perform 1 manoeuvre from the 4 you have been taught, maybe an emergency stop, a 10 minute period of independent driving where you will be either given a number of signs to follow or a short circuit of instructions. Two Vehicle Safety Check Questions will be asked at the start of the test.
Attending the test
You must take both parts of your our Provisional Licence; the photographic plastic card and the counter part.
If you only have the old provisional licence without the photo card licence then you must take your passport.

Your valid Theory Pass Certificate.
The sole purpose of the test is to ensure that you are safe to drive on your own.
When you pass your driving test your Provisional Licence will be updated to a Full Driving Licence free of charge