Lesson pricing
---
For Lesson pricing to suit you -
Please call 01260 276498
or mobile: 0778 779 2496
for a quote today!
Areas covered
---
Areas covered include:
Congleton, Sandbach, Alsager, Crewe,
Holmes Chapel and Macclesfield
Have a question?
---
Please click here to get in touch with me at
lorraine.powell5@btinternet.com
I'll be happy to help answer any questions!
Social
---

Follow me on Facebook
Getting Insurance
---
Get a great deal with Collingwood Learner Driver Insurance


For great insurance rates for learner drivers, new drivers and Cars for young drivers, see Marmalade.

Getting Started
Getting a licence - £50
Before you can learn to drive you need a provisional driving licence, which you can obtain by doing the following:
A Driving licence has 2 parts to it (both are important):
A plastic photo license

Paper counter parts
Eyesight
On your first lesson your eyesight will be checked to ensure that you can read a standard number plate at 20.5M (67feet). If you wear glasses or contact lenses then please remember to bring them along. Please ensure that the driving instructor is informed of any medication being taken and any special needs that you may have.
Reference Material
You will need either books, CD's, or AP's to help you to learn to drive and pass the tests. Reference Material is available from Learn with Lorraine® or you may wish to supply your own.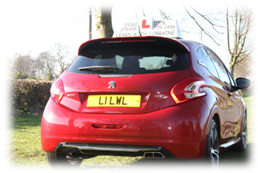 You can revise for and practice your theory and hazard perception tests at the following sites:
http://theorytestpro.co.uk/login
https://www.gov.uk/practise-your-driving-theory-test
http://www.theory-test.co.uk/asp/default.asp