Lesson pricing
---
For Lesson pricing to suit you -
Please call 01260 276498
or mobile: 0778 779 2496
for a quote today!
Areas covered
---
Areas covered include:
Congleton, Sandbach, Alsager, Crewe,
Holmes Chapel and Macclesfield
Have a question?
---
Please click here to get in touch with me at
lorraine.powell5@btinternet.com
I'll be happy to help answer any questions!
Social
---

Follow me on Facebook
Getting Insurance
---
Get a great deal with Collingwood Learner Driver Insurance


For great insurance rates for learner drivers, new drivers and Cars for young drivers, see Marmalade.

Welcome!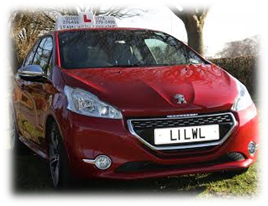 You must be keen to...
- learn to drive safely for life
- improve your current driving skills
Learn with Lorraine® offers a fully
planned training program to enable you to drive safely for life.

This site will tell you what you need to get started!
Lessons include Hazard Perception and Theory training to compliment the Practical Training while lesson lengths can be tailored to suit your individual needs from 1 to 2 hours.

Bookings are taken for individual lessons or save money by Block booking 10 hours worth of driving lessons to make an Ideal Gift - we can even arrange Gift Vouchers to cover your birthday and Christmas surprises. Check out how the PassPlus Scheme can save you money on insurance after the test.
If you are in the South Cheshire / North Staffs area please call me on my phone:
(Congleton) 01260 276498 or mobile: 0778 779 2496. Thanks!
Testimonials
"Lorraine goes that step further compared to other instructors to ensure that your driving lessons are suited to your individual needs." - Cathy
"Hi Lorraine! Just wanted to say a huge thank you for all your patience and effort with my son. He is so pleased to have passed yesterday!" - Jo